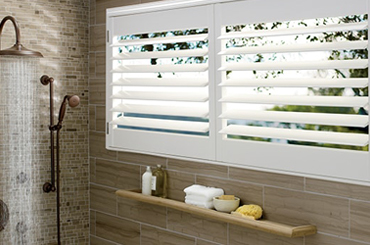 February 26th, 2021
California Shutters
California shutters can add versatility and visual interest to almost any room with any decor. The adjustable slats of these classic window treatments can be angled in any position—to control sunlight, airflow and your view of the outside—or closed to ensure absolute privacy.
The sturdy material of these shutters offer high resistance against wind pressure and can be easily adjusted to achieve the right ventilation without compromising on privacy. They can also protect your furniture and interior fabrics against the harsh UV rays of direct sunlight as well as provide additional insulation during the colder months. All year round, California shutters will safeguard your home from the effects of extreme outside temperatures.
Your California shutters will be custom-made to accurately fit your windows. We will help you select from our wide selection of finishes, stains, textures and louvre width sizes, which will be configured to fit your unique requirements.
BACK TO RESOURCES